This past month has been very productive in the Bowdish laboratory, with many triumphs achieved by it's industrious members.
Firstly, a big congratulation goes to Kyle Novakowski, the Bowdish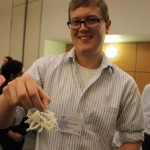 lab's newest PhD student. Following a lot of hard work, determination and great dedication to his Masters project, Kyle successfully passed his transfer exam on July 7 and has officially begun his seemingly endless exciting pursuit for a PhD. Good luck to Kyle in continuing his interesting investigation on the regulation and function of MARCO!
Next up is Dessi Loukov, who is currently an undergraduate but come September will be the Bowdish lab's 4th PhD student. At the 1st annual MIRC Perey Symposium held on June 19, Dessi impressed faculty and trainees with her educational and enthusiastic speed poster presentation on modulating the immune system to potentially reverse age-associated inflammation. Dessi was awarded a travel award as a result of her superb presentation skills. Kudos also to Fan Fei (PhD candidate) and Avee Naidoo (MSc candidate) who gave excellent speed poster talks and Dr. Chris Verschoor who gave an excellent oral presentation.  Who knew that research in inflammation could be so exciting? The Bowdish lab, that's who!
One PhD candidate who deserves great recognition for his recent successes is Mike Dorrington. Not only was Mike awarded with a prestigious and well-deserved Canadian Lung Association & Canadian Thoracic Studentship, but he additionally achieved received The Ruth and Wilson Tafts Prize for Immunology for having the best paper published in a peer-reviewed journal in 2013. Geez Mike, save some awards for the rest of us. These awards will be used to further fund his fascinating work on the role of macrophages – clearly, the best cell around – in recognition and clearance of Streptococcus pneumoniae in the upper respiratory tract. Congratulations Mike!
Then, there's Dr. Chris Verschoor, the lab's most productive and well-rounded member. Chris' paper entitled, "Alterations to the frequency and function of peripheral blood monocytes and associations with chronic disease in the advanced-age, frail elderly", was recently accepted into the PLoS one. If you're interested in changes in monocyte populations with age – I mean, who isn't? – keep a look out for Chris' article in the next issue of PLoS one . Way to go Chris on this well-deserved publication!
<- Manuscipt accepted = happy post-doc.
And last, but definitely not least, the lab takes great pleasure in congratulating our passionate leader, Dr. Dawn Bowdish, who has been awarded tenure and a promotion to Associate Professor effective as of July 1, 2014. This accomplishment is a fitting acknowledgement of Dawn's exceptional work, devotion and academic contributions to research in the field of macrophage biology. In addition to her promotion and tenure, Dawn recently received a Best Teacher Award in the Department of Pathology for excellence in undergraduate teaching and graduate supervision. Well-done Dawn!
Congratulations Bowdish lab on our successes!
Way to kill it, like young macrophages on pneumo 😉