This page lists our current and honorary members. Perhaps you'd like to see our growing list of amazing Alumni?
Graduate Students:
Christian Bellissimo (PhD student – co-supervised with Dr. Deborah Sloboda) got inspired to study immunology and pregnancy after taking Advanced Immunology. He studies how the immune cells of the placenta change when the mother is exposed to stress. Early life stress influences how well or how poorly you age and so Christian's work may help develop strategies to give all babies a healthy start. Distinctions: Ontario Graduate Scholarship 2017. Canada Graduate Scholarship-MSC, 2018, Canada Graduate Scholarhsip-Doctoral 2019. Best Poster Presentation in Placental Biology at the Canadian National Perinatal Research Meeting(2019). 
Elnur Shayhidin (PhD 2019- ) has a MSc from Laval University and has worked as a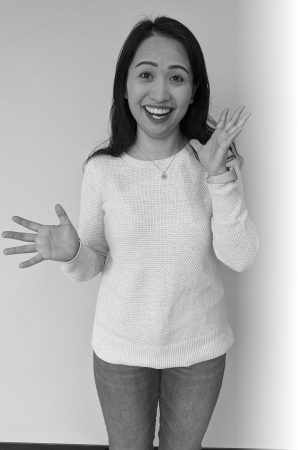 technician at Cornell University. She brings a wealth of skills and experience to the Bowdish lab. In collaboration with Dr. Jose Moran-Mirabal (Chemistry) she uses microscopy and other tools to discover why aging macrophages are not very good at defending us against the bacteria that cause pneumonia. Distinctions: Ontario Graduate Scholarship (2020/2021). 
Anastasia Chouvalov (MSc student, 2019- ) is a McMaster graduate and a registered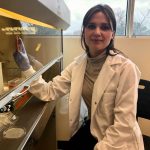 nurse who brings her lived experience seeing the impact of infections in children to her work in the Bowdish lab. Although it's been known for decades that children born to mom's who have experienced stress or adversity during pregnancy are more susceptible to infections like pneumonia, no one knows why and consequently, we can't protect them. Working with Dr. Deborah Sloboda and her team, Ana aspires to change that. Distinctions: Canada Graduate Scholarship -MSc (2020).
Dominika Boron (MSc student, 2020-)
Post-doctoral fellows:
Dr. Allison Kennedy (PDF 2017-) came from the Northern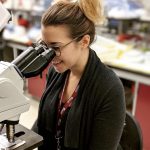 Ontario School of Medicine. She joined the Bowdish lab to work on a collaborative study on immunological changes during aging and cancer treatment in collaboration with Dr. Doug Boreham. Allison has a passion for both doing science but also engaging the public in scientific discoveries and has an impressive list of public engagement accomplishments. Distinctions: Best PDF poster presentation at the IIDR trainee day 2018. H.G. Thode Postdoctoral fellowship 2019-2021. Mildred Gulliver award 2019, 
Dr. Candice Quin (PDF 2020-)
Dr. Jessica Breznik (PDF 2020-
Research Coordinator:
Jessica Wallace (2019 – ) is living proof that you may graduate, you may get another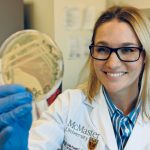 job, but you never actually leave the Bowdish lab. Jessica started in the Bowdish lab as an undergraduate thesis student, moved on to do an MSc with Dr. Deborah Sloboda and then returned as a research co-coordinator for our human and clinical studies. Her responsibilities are vast. She is in charge of recruitment, sample collection and storage from our studies of human immunology and the microbiome as well as keeping the lab in tip top shape. If you think you'd like to be part of one of our studies, give Jessica an email -we'd love to have you (or more precisely your blood and nasal microbes).
Animal Technician & Manager of the PreClinical Studies in Aging Lab:
Braeden Cowborough (2019 – ) got an MSc from the McMaster Immunology Research Centre in 2017. After working briefly in industry he joined the Bowdish team as our lead scientist in the PreClinical Studies in Aging Lab. Braeden's portfolio is extensive, he is in charge of our studies of how the immune system, metabolic factors and the microbiome influences healthy or unhealthy aging, managing our biobank and industrial and academic collaborations.
Lab Manager
Erica de Jong (MSc  2018-2020) did a BSc project with Dr. John McCormick at Western University and an MSc in the Bowdish lab entitled "Unhealthy Aging and the microbiota". She is helping us uncover how the microbes that live in and on us conspire against us as we grow older. Distinctions: Ontario Graduate Scholarship (2019/2020). Certificate of Excellence from the Summer Program in Aging, CIHR (2019).
Undergraduates:
Kevin Dai (Thesis student, September 2020-April 2020). Distinctions: Best presentation (Undergraduate category) at the  MIRA Trainee Network's Pitch Your Project event (2020).
Ansha Suleman (Thesis student, September 2020-April 2020).
Fearless leader: Dawn's project is – in theory – pushing back the boundaries of macrophage biology.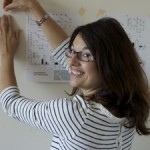 In practice she spends a lot of time writing grants, writing more grants, filling out interminable paperwork, and basically keeping all those macrophage shaped balls in the air. She is pictured here doing what she loves best – keeping the data gods fed and happy with exciting new discoveries. An office covered with figures from papers planned and in progress is a happy office.