This page lists our current and honorary members. Perhaps you'd like to see our growing list of amazing Alumni?
Graduate Students:
Dessi Loukov (PhD candidate) was a co-op student employed by Vancouver based Qu Biologics to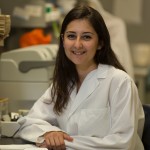 work in the Bowdish lab (May-December 2013) and stayed on as an undergraduate thesis and summer student from Jan-July 2014. She is now a PhD student who studies why aging is accompanied by inflammation and what the consequences are for our immune cells. She's taking a translational approach to asking her research questions which includes mechanistic studies in our aged animal models and collaborating with clinician-scientists such as Dr. Maggie Larché to translate this work into humans.  Distinctions: Won the Faculty choice award for speed poster talk at the 1st Annual Perey Symposium (2014). Oral presentation at Western University's IIRF (2014). Oral presentation at the Buffalo Immunology Conference (2015), Poster Excellence award at the FHS plenary (May 2015). Winner of poster award at the McMaster Institute of Geroscience inaugural symposium (2015). Ontario Graduate Scholarship (2016, declined), CIHR-PhD studentship (2016). Department Graduate Research Excellence Scholarship (2017).
Pat Schenck (PhD candidate – co-supervised with Mike Surette) Pat Schenck joined the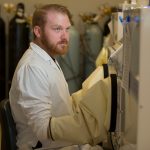 dynamic duo of the Bowdish-Surette labs after an MSc in Calgary where he studied the role of the microbiome in gastrointestinal infections. Since he finds snot less distasteful than colon contents (if you know what I mean), he joined us for a PhD studying the role of the airway microbiota in respiratory infections such as pneumonia. Pat aims to determine whether the germs that live in the upper respiratory tract can play a role in protecting from respiratory infections or can contribute to infection risk. Distinctions: Boris Albini Award for poster presentation at Buffalo Immunology conference (2015), CIHR PhD studentship (2015-2018). Michael Smith Travel Supplement (2016). 
Sara Makaremi (PhD student – co-supervised with Dr. José Moran-Mirabal). Sara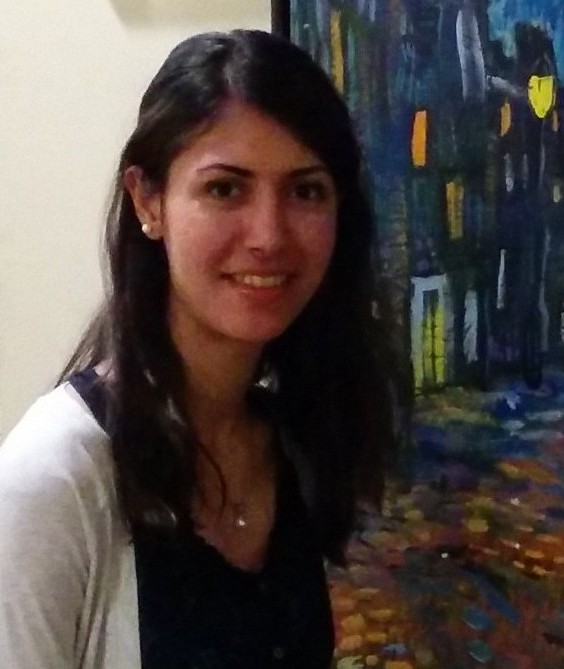 graduated with an M.E.Sc (that's an engineering degree for all you biologists) from the Western University and is applying here knowledge of structures and surfaces to study how macrophage receptors move in membranes. Distinctions:  Canadian Foundation for the Development of Microscopy (CFDM) as recipient of a travel scholarship ($1000) for attending the Biophysical Society 60th Annual Meeting in Los Angeles.Registration Award for 10th LFD Workshop on Advanced Fluorescence Imaging and Analysis from University of California Irvine (2015).Student Councillor, Microscopical Society of Canada (2016-2018). First place for an Oral presentation in the Biomedical Engineering Symposium, McMaster (2017). Registration award from the Canadian Foundation for the Development of Microscopy and the organizing committee of the Canadian Microscopy and Cytometry Symposium (2017).Ontario Graduate Scholarship 2017-18. Canadian Foundation for the Development of Microscopy travel award 2018. Gerald T Simon Award from the Microscopical Society of Canada and Microscopical Society of America (2018)
Jessica Breznik (PhD student 2016-). Jessica is a local who got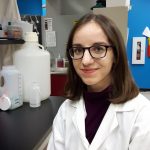 an MSc at Queen's University and after working for a year felt the call of academia beckoning her back for a PhD. She joined the Bowdish-Schertzer–Sloboda lab trifecta (say that three times fast) to study the immunology of pregnancy, and specifically how a high fat diet during pregnancy affects metabolic and immunologic outcomes. Distinctions: OGS 2016-2017 & 2018/19. Oral presentation in the plenary session of the Canadian National Perinatal Research Meeting (2017).
Grace Teskey (MSc student 2016-) hails from the University of Windsor where she made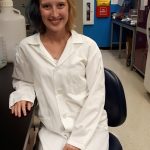 research a staple of her undergraduate experience. She's joined our lab to understand whether there are immunological changes in certain behavioural disorders with our collaborator Dr. Jane Foster. Grace's motto is "Do all the immunophenotyping!" and when she's not dying her hair to match our lab logo (have I mentioned how much we love macrophages?)  she's making those flow cytometers sing. Distinctions: Recipient of  MacART Trainee Travel Awards (2017). 
Helen Luu (MSc student – co-supervised with Dr. José Moran-Mirabal) is a McMaster graduate with a degree in Chemistry but a love for immunology It's a marriage made in heaven because it allows her to ask some really interesting questions about how different surfaces affect macrophage adhesion and function, which has implications for development of implantable biomaterials and developing better ways to study macrophage function.
Post-doctoral fellows:
Dr. Christian Schulz (PDF 2016-). Dr Schulz hails from Germany where he received his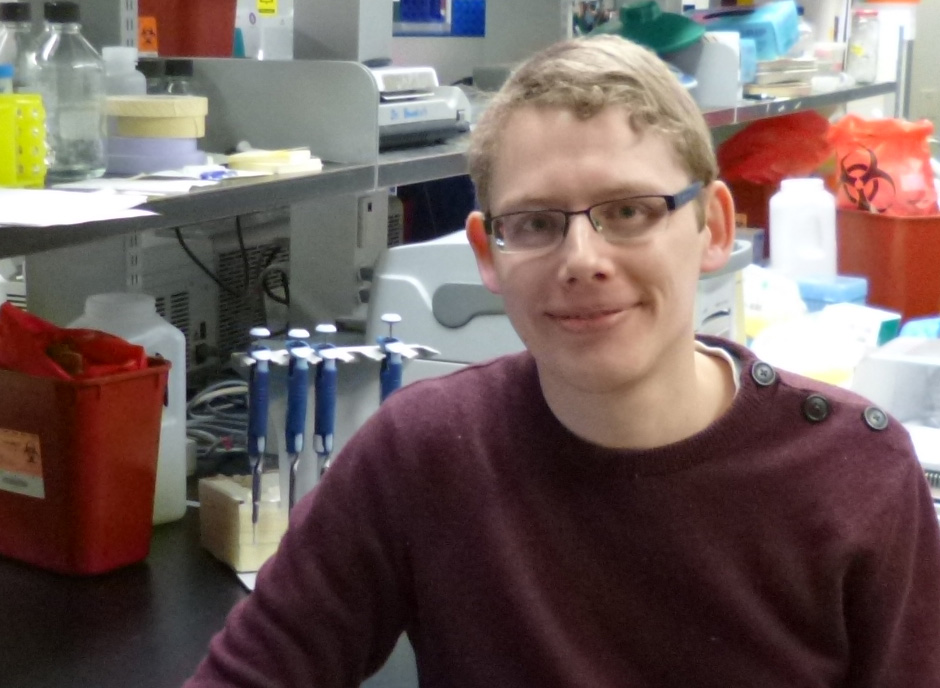 PhD for his work on the pathogen Streptococcus pneumoniae in Prof. Sven Hammerschmidt's lab (University of Greifswald). S. pneumonaie is the major cause of pneumonia in older adults and although we have a vaccine, it doesn't work as well as we'd like in adults (in kids it works great). Fortunately, Christian has got some ideas about how we might stop infections before they even start. He is investigating the possibility of strengthening the microbial communities of the upper respiratory tract so that S. pneumoniae can never establish foothold. We look forward to supporting him in this exciting research endeavour! Distinctions:  DFG fellowship (2016-2018). 
Dr. Janine Strehmel (PDF 2016-). Dr Strehemel completed her PhD in  Dr. Jorge Overhage's lab and joined the Bowdish lab and a team of ORF funded researchers to discover novel immunomodulators that will kill bacteria by boosting host immunity.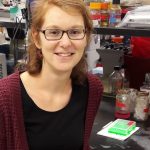 She is particularly excited by this approach because it should not only help combat antibiotic resistance but will protect those at greatest risk of infection, the young, the old and the immunocompromised. The WHO and other organizations list antibiotic resistance as a major threat to global health so we wish Dr. Strehmel success!
Dr. Allison Kennedy (PDF 2017-) came from the Northern Ontario School of Medicine. She joined the Bowdish lab to work on a collaborative study on immunological changes during aging and cancer treatment in collaboration with Dr. Doug Boreham. Allison has a passion for both doing science but also engaging the public in scientific discoveries and has an impressive list of public engagement accomplishments.
Undergraduates: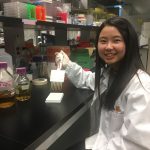 Melodie Kim (Thesis student May- Aug 2016, Sept 2016-Apr 2017, Sept 2017-April 2018). Melodie is a BHSc student who joined the lab in 2016 to help discover novel adjunct therapies to antibiotics. She works with Dr. Janine Strehmel and the Surette lab on our collaborative project to mine microbes for new molecules. Distinctions: BHSc Summer Studentship 2018. 
Joseph Chon (3rd year thesis student Sept 2016-Apr 2017, 4th year thesis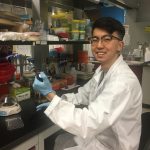 student September 2017-April 2018). Joseph is a biochemistry student who started working on a clinical collaboration with Dr. Elyanne Ratcliffe and Dr. Jenna Dowanhiuk. He stayed on for his fourth year project to get a bit more biochemical and is currently studying why aging macrophages are less able to kill Streptococcus pneumoniae compared to their young counterparts. Distinctions: IIDR summer internship 2018.
Danny Ma (NSERC USRA – 2018, 4th year thesis student Sept 2018-Apr 2019). Danny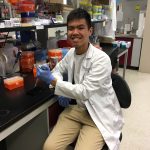 is a BHSc student who has previously studied lung physiology in Dr. Warren Lee's lab. Danny studies why aging macrophages are less able to take up bacteria, using biochemistry, molecular biology and microscopy. techniques Distinctions: NSERC-USRA 2018, MIRA summer scholarship 2018.
Mina Sadeghi (4th year thesis student May 2018, Co-op Student Aug 2018-Apr 2019).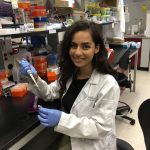 Mina is a Biology & Pharmacology co-op student who joined the Bowdish lab with an aim to understand how the microbes that live in our upper respiratory tract interact with our immune system and each other. She works with Dr. Janine Strehmel to develop what we call the "probiotics of the nose".  Distinctions: MIRA summer studentship 2018.
Research Co-ordinator:
Mohammad Malik: Mohammad was a co-op and thesis student with the Bowdish lab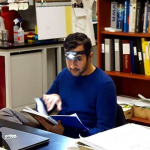 and we were thrilled to recruit him to work as a research coordinator for our ongoing clinical studies. Mohammad is the Bowdish lab's primary contact for our research participants. He is also our social media manager (see his work on Instagram at house.macrophage. Mohammad is  seen here digging deep into the research data.
Research Assistant:
Judjina Thevarajah joined the Bowdish lab in January 2018 as a co-op
student to help co-ordinate our clinical studies and analyze some of the mounds of data these studies provide. Judjina can be seen running around town collecting samples, processing blood, saliva and nasal secretions (glamourous, no?) and pushing our clinical work forward.
Fearless leader: Dawn's project is – in theory – pushing back the boundaries of macrophage biology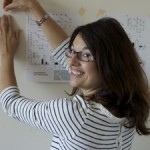 In practice she spends a lot of time writing grants, writing more grants, filling out interminable paperwork, and basically keeping all those macrophage shaped balls in the air. She is pictured here doing what she loves best – keeping the data gods fed and happy with exciting new discoveries. An office covered with figures from papers planned and in progress is a happy office.

Honorary Members:
Prof. Mark McDermott – collaborator and expert in mucosal immunity.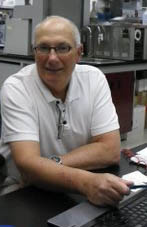 Dr. McDermott's original paper postulating the existence of a common mucosal immune system has been cited over 600 times and spawned the field of mucosal immunology and vaccinations. Fortunately for the trainees of the Bowdish lab he is actively involved in mentorship, graduate advocacy, remedial immunology teaching and even benchwork (no one can find the nasal associated lymphoid tissue like he can!). Distinctions: Too many to list.